Asset Publisher
Asset Publisher
Back
Huawei Ascend Mate 7
Pros
Great device with 6 inch display
Price will be budget friendly as announced by Huawei
Great build quality and screen to body ratio (83%)
Gigantic 4100 mAH battery
Cons
GPU performance is not upto the mark
It is too big to be pocketable
Announced: Sep 5, 2014 at IFA 2014.
As IFA 2014 is progressing, new phones are being announced by the leading manufacturers. Like many other competitors, Huawei's smartphone market share is also growing with the launch of new phones. The new launch at IFA 2014 is Ascend Mate 7 with a 6-inch display which is posed to challenge other flagship devices.
Dimensions & Design
The most important aspect of Mate 7 is the ratio of screen-to-body. It is 83% which is highest so far and even beats the most hit phones :Samsung Galaxy Note 4, Galaxy S5, HTC One M8, iPhone 5S, and many others. Please find below a comparison of screen to body ratios of a few contemporary phones:
Another important feature to notice is the dimensions. A 6" screen with reduced bezels as much as possible. It is bigger that newly announced Note 4 with its 5.7" screen. Filling up a 83% bezel-to-device-footprint ratio this is currently the most "screen" on a device so far. It is larger than the 5.7 inch Galaxy Note 4, but also thinner at just 7.9mm. it is to be noted that this thickness is the maximum thickness of the center point on the phones. At the edges the thickness has been reduced to 3.5mm as per claims by Huawei. However if measured it looks to be more than 4.5 mm on the edges too.
The build quality is top-notch with very pleasing ergonomics incorporated.
A microUSB 2.0 connector is found on the bottom side , which points to an asymmetry in the design. The power button is placed on the right side at thumb's reach and the volume button is positioned right above it. On the left side we have the main SIM tray and the secondary tray that may stock both a nanoSIM and a microSD card, which indicates full dual-SIM capabilities of the phone.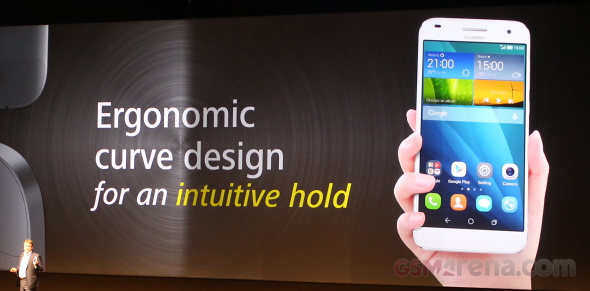 Battery
An enormous 4100mAh battery is included which offers a 15.78Wh of power: this is higher than even Nexus 7 2013. Huawei has dedicated a very large amount of internal device space to the battery alone. This is all enclosed in an aluminium body with a thickness of 7.9mm.
Camera
The same IMX214 13 MP camera sensor as on Huawei Honor 6 is included . However this time, the F2.0 28mm wide angle lens is incorporated . A 5MP sensor is on the front Camera with a non-spherical lens. A 13MP lens guarantees sharp and detailed shots, while the 5MP front camera is perfect for superior video calling. With 1.2-second Ultra snapshot and low-light Performance, you can make assured you capture the right second in all lighting conditions.
Fingerprint Sensor
This is a great attraction on the Mate 7: the new fingerprint sensor found below the back camera. It is a touch-sensor made by Swedish company FPC. After Apple's TouchID, this one is the first offer by Huawei as Samsung has offered only swipe implementation. The Huawei's fingerprint sensor provides full 360° print rotation readout support, even working with wet fingers. An RF sensing ring has been built around the sensor which detects your finger even when the device is asleep (as it will wake the device up). Due to this, you can turn on the device and unlock it in a single action. The fingerprint registration is matching to Apple's, with you having to press your fingerprint several times for improved characterization of your fingerprint. The touch sensor can also be used as a camera shutter button while taking snaps.
Software
On the software side we get an update of Emotion UI to version 3.0. It incorporates a complete redesign from 2.x's pre-iOS 7 style to exactly a new design language. This does not bring only the new design, but also a marvelous amount of special and advantageous features are added in it.
Processor
Huawei Ascend Mate7 is powered by a super eight-core Kirin 925 SoC chipset, which as per claim by Huawei, utilizes intelligent switching to provide the flawless balance between performance and power. With this much specs, it seems ideal for the most important things, like multi-tasking or 3D games or videos for longer smart technology for the smart world you live in.