Asset Publisher
Asset Publisher
Back
Microsoft to launch Lumia 830 with 20 MP Camera at IFA Sep 2014
As IFA, scheduled for first week of Sep 14, is getting nearer, many rumors and expectations are arising regarding the launch of new phones and there specs especially. The Microsoft's pre-IFA show is likely to star Nokia Lumia 830- the Windows phone with a special extra –ordinary camera inside!
The invite being sent by the Microsoft is suggestive of the same. Please note the 'O' styled to the snap of a camera in the below invitation-cum-ad: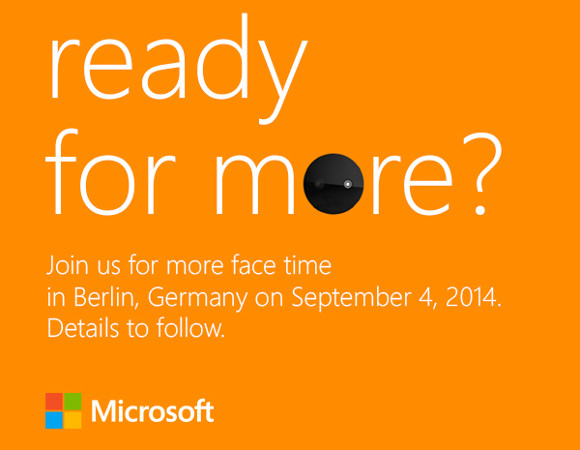 The Lumia 830 has been rumored to come with a 20 MP PureView rear camera, though everything else about it is yet to be confirmed. Things are much ebident for the Lumia 730, which has a 4.7-inch 720p touchscreen, a 6.5 MP rear camera, a 5 MP front snapper for selfies, a 1.2 GHz quad-core processor, Windows 8.1 OS, 1GB of RAM, 8GB of internal storage with a 2000 mAh battery.
A 20 megapixel PureView camera is certainly on the very high end. It may the key factor for high selling of this new Windows phone. It means this gadget has been designed with the spirit of photography in mind.
Other Nokia Lumia 830 specualted features include:
– 4.5 inch 720p display
– 20.1 pure view camera
– SD Card Support
A leaked video acquired by TK Tech News hints on a few other specs of this phone. As per the video, the Nokia Lumia 830 will have a a 4.5" 720p display, a pixel density of 326ppi. It shall offer LTE support and, naturally, Windows Phone 8.1 under the hood, a microSD card slot.
It is estimated that the onboard storage will be more than 16GB .TK Tech News promises to provide even more details later. As per them, they have got an actual pre-release unit of the Nokia Lumia 830.
The invite from Microsoft also reads, "Microsoft Devices Group will be at IFA (Berlin) this year on September 4, 2014."